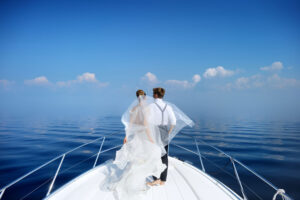 When planning your wedding, the attire seems simple enough. You need a wedding dress, bridesmaids dresses, and tuxes for the groom and best man. However, it's not always that simple. The type of dresses and tuxes you buy will depend largely on your theme and venue. When it comes to a luxury yacht wedding, you'll have to dress accordingly. Here are some tips to get started:
Women
As the bride, your wedding dress will be of upmost importance. However, before you reach for that gorgeous, multi-layered gown, you may want to consider what it will be like on that yacht. If you're planning a luxury yacht wedding, then you're likely holding it during the summer months. As such, you'll be spending plenty of time outside in the sun. Not only that, but you'll have the wind to consider as well.
For brides and bridesmaids, we recommend dresses that are light, thin, and breezy, without too many layers. This will ensure that you don't overheat while you're in the sun. Plus, you will have beautiful photos to take when the wind blows against your dress.
Men
Men, unfortunately, have less wardrobe variety than women. Most tuxes are thick and could be uncomfortable in the summer heat.
As such, we recommend choosing a tux that still looks good without the jacket and ensuring the fabric isn't too thick.
By doing so, you can take off your jacket whenever you get overheat while still looking formal and stylish. Once you're done with the photos, you can also roll up your sleeves to get a bit more air.
If you're planning a luxury yacht wedding in South Florida, look no further than Sir Winston Luxury Yacht Charters. Contact us today to discuss your luxury yacht wedding options!