Your Dream Yacht Wedding in Sunny Miami, Hollywood, or Fort Lauderdale, Florida Awaits!!
We welcome you to come celebrate this most special day aboard the elegant charter yacht The Grand Princess. 
Whether you envision an intimate gathering for select family and friends or a magnificent affair for many, the Grand Princess is the ultimate in dinner boat for wedding charters.
Imagine the thrill of welcoming your guests aboard your own private yacht. The Grand Princess offers a unique and imaginative alternative to the typical wedding reception hall. She is the ideal wedding reception venue. Say "I do" with a view. One can't find a more spectacular setting than the Grand Princess while cruising the beautiful waters of South Florida. We offer elegant lunch, brunch, cocktail or dinner party sailing from Miami, Hollywood, Fort Lauderdale, Boca Raton and the Palm Beaches. You select the location and our luxury wedding charter yacht comes to you!
The Grand Princess is the newest wedding dinner charter boat on the water. With panoramic views on all levels and elegant décor in soothing colors, the Grand Princess is the ideal wedding party charter yacht.
All of our food is freshly prepared on board the vessel by our culinary team. The Executive Chef is known for his fresh ingredients, spectacular presentation and scrumptious food taste. Whether a formal plated meal, an elegant buffet or sophisticated cocktail party, we can offer it all!
Wedding receptions on the Grand Princess offer flexible spacing tailored to each couples' individual tastes. We guarantee top notch professional service. Our certified and experienced wedding planners are with you every step of the way. The Grand Princess provides the perfect setting for an unforgettable wedding and a festive reception. Our charter consultants will treat your wedding with an attention to detail worthy of the joyous occasion. Our unique vessel provides the most memorable, engaging and high-value alternative to any land based venue.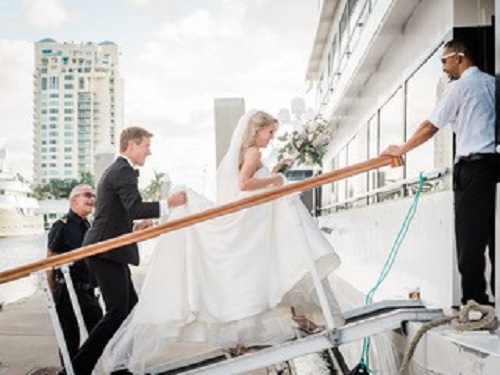 "I just want to tell you what an amazing job your team did for Annie's wedding! Everything was perfect. Dayna and Firuta were absolutely perfect. Every member of the team was lovely, attentive, kind, helpful! I just can't say enough about everyone working that night.

The yacht looked beautiful, the service was above and beyond! I admit, I was nervous after going through a couple of people and then having someone brand-new to work with 2 wks before, but Dayna was perfect!!!

Thank you again! Please tell all your staff how amazing they made our night!"

Elisa Wolfe