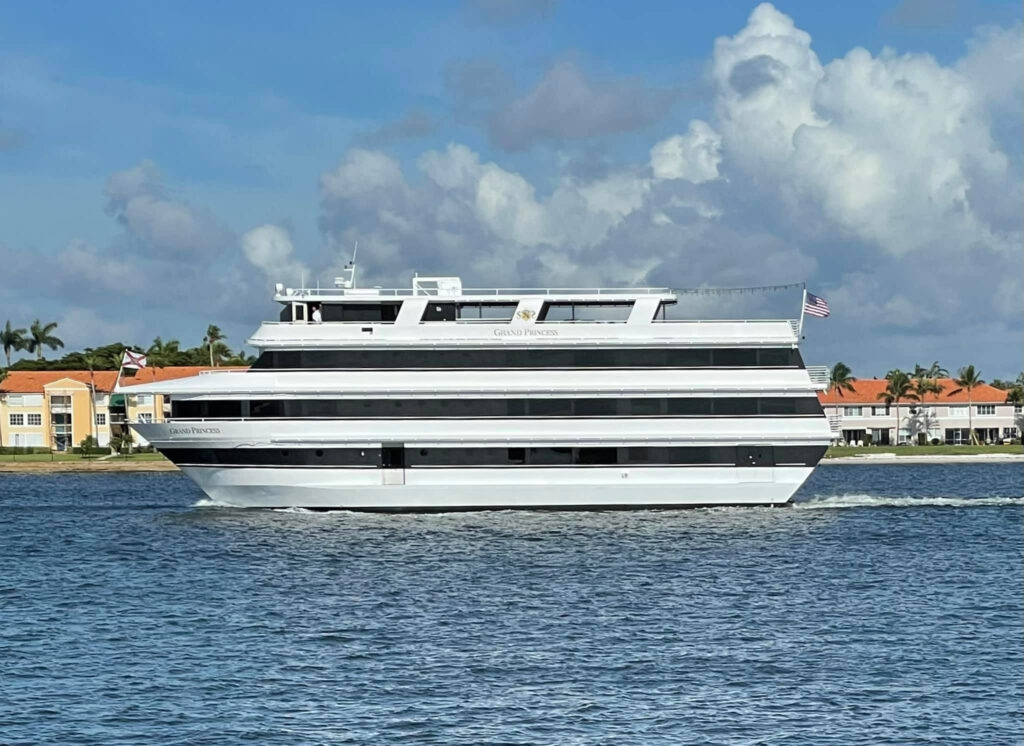 For yacht charters in Palm Beach and West Palm Beach, Sir Winston Luxury Yacht Charters is the perfect party boat rental. Aboard the Grand Princess, you'll find everything you could ever ask for in a full-service yacht rental including epic views and even better services.
Palm Beach Wedding Yacht & Full-Service Charter
Offering a picturesque wedding venue with attentive, professional staff, choose Sir Winston to create the perfect atmosphere for your celebration. With our wedding yacht charters, you, your better half, and your entire family and friend circle can board the ship and dance the night away with plenty of room to celebrate. Behind beautiful Palm Beach views our catering and bar services are here to ensure your wedding yacht rental is nothing short of incredible.
Yacht Charters for Corporate Events in West Palm Beach
Bring your company and all its shareholders to West Palm Beach and board the Grand Princess for an unforgettable corporate experience. Sir Winston Luxury Yacht is proud to serve large and small groups for trade shows, company milestones, conferences, and any excuse to have a great time with your co-workers.
Palm Beach Party Yacht Charter for Events & Celebrations
The Grand Princess is among the most elegant party boat rentals in the Palm Beach area. Our luxury yacht charters are a great venue for high-end celebrations, whether that be a birthday, anniversary, or any kind of occasion. With catering, dancefloors, multiple bars, and lots of fun add-ons, an event onboard a Sir Winston Luxury Yacht Charter is a guaranteed good time.
Make It Memorable with A Full-Service Party Yacht Rental
From the food to the staff and the ship itself, everything about the Grand Princess is as good as it gets for luxury yacht charters. No matter what you're celebrating in the Palm Beach Area, contact us or request a proposal today to learn more about what makes Sir Winston Luxury Yacht Charters the best choice in town!