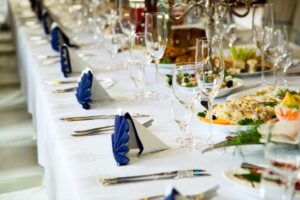 Nothing ruins a wedding like bad food. You and your guests need to be properly fueled if you're to celebrate the big day. However, finding something that most people will like can be easier said than done. That's why we've compiled our top three tips on selecting a wedding reception menu to help you serve the best food possible:
Ask about food allergies and dietary needs
Even if you're having a smaller wedding, you shouldn't assume everyone can eat whatever you serve. Some people may follow specific diets, such as vegetarianism, while others may have food allergies. In order to accommodate for this, ask people to list their food allergies and dietary needs when they RSVP.
Offer multiple options for each course
Whether you're doing it buffet-style or having a formal five-course meal, you should still offer multiple options for each course. For example, you can serve both chicken and pasta for the main course, and then a few side dishes as well. This will ensure that even the pickiest eaters will have something to eat.
Keep it seasonal
Always keep in mind the time of year when creating a wedding reception menu to ensure the menu goes with your overall wedding theme. No one will want soup on a hot summer's day, but they will want it in a fall or winter wedding.
At Sir Winston Luxury Yacht Charters, we offer multiple menu options to fit your needs. Contact us today to learn more about our luxury yacht wedding charters.