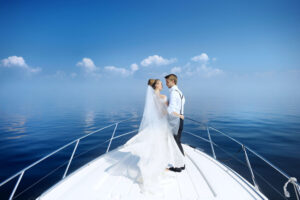 A luxury yacht wedding is elegant, beautiful, and memorable. There's nothing quite like having the ocean surrounding you as you say, "I do." But there's a lot of planning involved to achieve such a special moment. Not only do you have to find the perfect luxury yacht, but you have to plan decorations, too.
Thankfully, we're here to help. We've compiled our favorite decoration ideas to help you plan your luxury yacht wedding:
Nautical Themed
You'll be spending your wedding on a boat, so a nautical theme will fit right in. The typical white-and-blue color scheme will work well, but you can also add in coral and sandy colors for an extra bit of variety. We love this idea of using nautical rope to tie silverware together. You can also use that idea for other items, such as napkins, or have the rope hanging around chairs, tables, etc. You can also get a lifebuoy and have people sign it.
Seasonal Themed
If you're not crazy about the nautical theme, you can always decorate based on the time of the year. If your wedding is being held in the spring, then decorate your yacht with flowers and pastel colors. If it's summertime, then go crazy with tropical plants, beach items, and more.
While most luxury yacht weddings are held in these two seasons, Florida's warm weather allows yacht weddings all year-round. Fall weddings can have pumpkins and autumn colors while winter weddings can look like winter wonderlands.
Decade Themed
Do you have a favorite decade? Then why not have some fun and have a decade themed wedding! If you love the '90s, then grab some denim and add little tributes to famous '90s sitcoms around each table. If you'd like something fancier, then consider a 1920's theme. With art deco designs and flapper-style dresses, you'll feel like you came out of The Great Gatsby.
No matter what theme you decide on, Sir Winston Luxury Yacht is here to help make your luxury yacht wedding a night to remember. Contact us today to learn more about our wedding yacht charters.