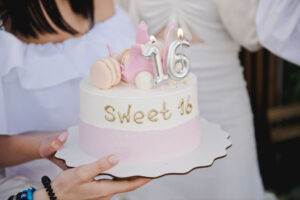 Is your son or daughter turning 16 this year? If so, you're probably going to throw a Sweet 16 party! Sweet 16 parties are a great time to celebrate your child's first steps into adulthood, but it can also be a challenge to plan. That's why we've put together some tips to help you throw the best Sweet 16 party for your kid.
Pick a theme
Every Sweet 16 party has a theme. But what kind of theme should that be? That will largely depend on your teen and their interests. Start brainstorming some ideas and create a list of possible themes early. Then, you can eliminate themes as you both think it over.
Set a date and time that is easy for most people
You may want to have your child's Sweet 16 party on their actual birthday. But, depending on when their birthday is, that might be easier said than done. Instead, try to aim for a date and time that is easiest for you and your guests. Weekends, especially during the school year, are ideal for birthday parties. If it's in the summer, then try to find a time when most people are at home rather than out on vacation.
Choose a venue to go with your theme
Remember that theme you picked out earlier? That theme will help you decide a venue…or vice versa! Your venue and your theme should always go together. For instance, if you have a beach theme, then having your party at a beach or on a yacht is the perfect way to go.
Sir Winston's Luxury Yacht Charters is the perfect venue for your child's Sweet 16 party. Contact us today to book us for your child's Sweet 16!