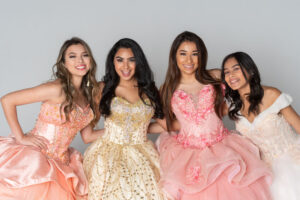 A Quinceanera is the hallmark of every young Latina's or Latino's life. But many compare planning a Quinceanera to planning a wedding, and for good reason! Quinceaneras need months of planning for it go off without a hitch. So, make sure you keep these top three tips in mind as you plan your daughter's or son's Quinceanera.
Pick a date that is economically and logistically easier
Many people try to plan a Quinceanera on the date of their son's or daughter's birthday, or right near it. But don't feel pressured to have it on a very specific date. You could save a lot of money having the Quinceanera on a certain day of the week, as some are more expensive than others (Saturdays are the most expensive). It'll also be easier to find locations and to ensure everyone can come if you're flexible with the date.
Get multiple quotes for everything
With so much to do, it can feel easier just to pick the first catering company or DJ you find. But this could cost you in more ways than one. Getting quotes from multiple businesses will help you cut down on costs and find the most economical option. Additionally, by shopping around, you'll start to learn the difference between high-quality services and poor-quality services.
Choose a theme that reflects your teen's personality
Your teen's Quinceanera should reflect them. So, pick a theme that truly speaks to their personality! This will also help you narrow down choices when it comes to décor, music, venues, and more.
Sir Winston's Luxury Yacht Charters offers the perfect yacht charters for your son's or daughter's Quinceanera. To learn more, contact us today!