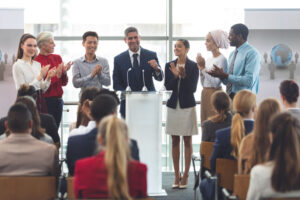 Corporate events are essential to your company's culture. They can help foster relationships between coworkers, strengthen ties with donors, enhance your brand, and more. But hosting the perfect corporate event is easier said than done. Thankfully, there are ways to ensure your corporate event is a success.
Understand your goals
Corporate events can range from fancy dinner parties to casual get-togethers. So, before you start planning the details of your event, you need to know what you want to get out of it. Are you hosting this to thank your employees for a great sales year? Or is your event more about raising donations and strengthening your relationships with donors? Once you have a clear understanding of your goals, you can start to plan.
Put yourself in the perspective of an attendee
It's easy to get lost in your own wishes for how you want your corporate event to play out. However, the success of an event depends on the happiness of the attendees. Put yourself in the shoes of a guest as you start planning your event. Ask yourself questions like: Is the event too long? Is there easy parking? Is the décor inviting?
A better way to put yourself in their shoes is to reach out to them personally. Send out a questionnaire to see what ideas they might have.
Get a team together
Even if you have a small company, you'll need help planning a corporate event. Hiring event planning professionals can ensure success. You can also reach out to people within your company, but the best corporate events are often done by professionals who know what they're doing.
Find the perfect venue
The location of your corporate event is of the utmost importance. Your venue should be based on your audience and your goals. For example, if you're looking to thank your employees for a good year, a more casual setting where they can let loose a bit is better than a fancier one.
At Sir Winston Luxury Yacht Charters, our charter boat The Grand Princess is perfect for corporate events. Learn more about our corporate event yacht charters by contacting us today!