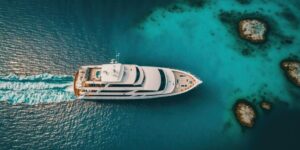 As the golden days of summer begin to wane, what better way to bid farewell to the season than with an epic end-of-summer bash aboard a luxury yacht? The combination of sparkling waters, gentle breezes, and the exclusivity of a yacht offers an unforgettable setting for your summer finale. Here are some tips to ensure your nautical celebration stands out.
Set the Scene with a Nautical Theme
Lean into the marine environment by opting for a nautical theme. Think navy and white striped decor, anchor motifs, and marine lanterns. Use seashells as centerpiece elements, and perhaps even have a mini faux lighthouse or two as decorative pieces.
Curate a Summery Menu
Ensure your guests savor the tastes of summer one last time. Offer dishes featuring seasonal ingredients, such as watermelon salad, grilled seafood, and tropical cocktails. Don't forget the classic summer desserts – perhaps a fruit tart or a refreshing sorbet to cool down.
Blend in Live Music
There's nothing like the rhythm of live music blending with the sound of gentle waves. Consider hiring a local band that specializes in beach tunes or summer hits to set the mood. Alternatively, a talented DJ can mix summer anthems to keep the party vibe going.
Organize Water-Based Activities
Take advantage of the yacht setting by organizing water-based activities. Offer paddleboarding, jet skiing, or even a casual swim. For those who'd rather stay dry, a sunbathing area with plush loungers is a must.
Capture the Memories
Ensure you have a designated photographer or a fun photo booth setup to capture the magic. Providing props like sailor hats, inflatable floats, and marine-themed frames can add a playful touch to the memories.
Provide Comfortable Seating Areas
While dancing and activities are essential, also offer areas where guests can relax and chat. Comfy cushions, bean bags, or even hammocks can create cozy corners for guests to unwind and enjoy the serenity of the sea.
Light Up the Night
As dusk approaches, ensure the ambiance remains magical. Fairy lights, tiki torches, and underwater boat lights can create a mesmerizing environment, turning your yacht into a floating spectacle.
To wrap up an unforgettable summer, hosting your end-of-season bash on a luxury yacht is the epitome of style and sophistication. Ready to set sail for your grand summer send-off? Reach out to our dedicated team at 954-998-9691 and let us help turn your dream celebration into reality.