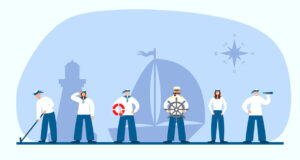 When looking for the right luxury yacht charter, many people focus on the vessel itself – the size, the amenities, and the available activities. However, an often-overlooked aspect of a successful yacht charter experience is the dedicated crew who work tirelessly behind the scenes. However, understanding the various roles and responsibilities of a luxury yacht charter crew can help you know exactly what to expect on your charter.
Captain: Navigating Your Journey
The captain of your yacht is responsible for your safety and overall satisfaction. With years of experience, they will ensure a smooth and unforgettable journey. In addition to getting where you need to go, the captain is in charge of managing the crew, planning the itinerary, and addressing any unexpected situations that might occur.
First Mate: The Captain's Right Hand
The first mate helps the captain manage the yacht, guests, and crew. They handle tasks such as docking, anchoring, and maintaining the yacht's mechanical systems. The first mate is also trained in emergency procedures and is there to ensure your safety throughout your journey.
Chef: Culinary Masterpieces at Sea
A luxury yacht charter experience wouldn't be complete without a personal chef. The chef on board will create delicious meals tailored to your preferences, dietary needs, and the freshest ingredients available. From gourmet breakfasts to multi-course dinners, the chef will ensure every meal is memorable.
Steward or Stewardess: Impeccable Service
The steward or stewardess is responsible for providing top-notch service throughout your charter. They will attend to your every need, ensuring your stay on-board is comfortable. From serving meals and drinks to maintaining the cleanliness of the yacht, the steward or stewardess plays a crucial role in enhancing your luxury yacht charter experience.
Deckhand: Yacht Maintenance and Activities
Deckhands are responsible for maintaining the yacht's exterior and ensuring all water toys and equipment are ready for use. They can also assist with activities such as water sports, fishing, or snorkeling, ensuring you have a fun and safe experience.
Engineer: Keeping Things Running Smoothly
The engineer has to maintain and troubleshoot the yacht's complex systems, including electrical, plumbing, and propulsion. While you might not interact with the engineer directly, their work is vital to ensuring a seamless and worry-free voyage.
Now that you have a better understanding of the roles and responsibilities of a luxury yacht charter crew, you can appreciate the exceptional service that awaits you on your next yacht adventure. Ready to embark on a luxurious journey with a professional crew catering to your every need? Contact Sir Winston Luxury Yacht Charters at (954) 998-9691 to book your unforgettable yacht charter experience.